Help Ridda to knock down fear of death in her life.
---
'Abbu am I going to survive?' was the question asked by my daughter whenever I took her for the Chemotherapy Session. I was broken down in tears and hugged her tightly by comforting her that she is going to recover soon."
- Inayathulla, Ridda's Father

Living a normal childhood that's all this little girl wants.

Ridda's parents have not yet disclosed the truth to Rida about her cancerous disease. It is a nightmare for us to see our daughter suffer from such a dreadful condition. The doctor had diagnosed her with Acute Lymphoblastic Leukemia, in which her bone marrow affects the generation of her white blood cells. Depression has taken over our lives after the diagnosis of this fatal disease.

Ridda's parents are worried about the expenses need for their daughter's chemotherapy.
Naziya, Ridda's mother is a housewife and her father Inayathulla works as a teacher in a school and carry the annual salary of Rs. 60,000/-only. They have spent a lot on Ridda's hospital admission and certain medical expenses. Their earnings are also falling short to continue for their daughter's chemotherapy. She needs chemotherapy for a year that would cost them Rs. 1,72,000/-

Appeal by Doctor
Dr. Intezar Mehdi, Pediatric Oncology / Hematology & BMT; HCG Hospital.

This is to certify that the above-referred case is critically ill. The child comes from an economically weaker section and requires support for medical treatment expense. We hereby recommend you this case for financial assistance.

How you can Support
Little Ridda's is fighting a Cancerous blood disease that is making her weaker with every passing day. The parents are pinning all the requirements for the chemotherapy session but, the costs are coming in their way. Your small act of kindness can ensure Ridda's life gets better and can knock down the fear of death in her life. Your kind gesture will bring back the smile on their faces.

Let us try and bring back hope in little Ridda's life.


Supporting Documents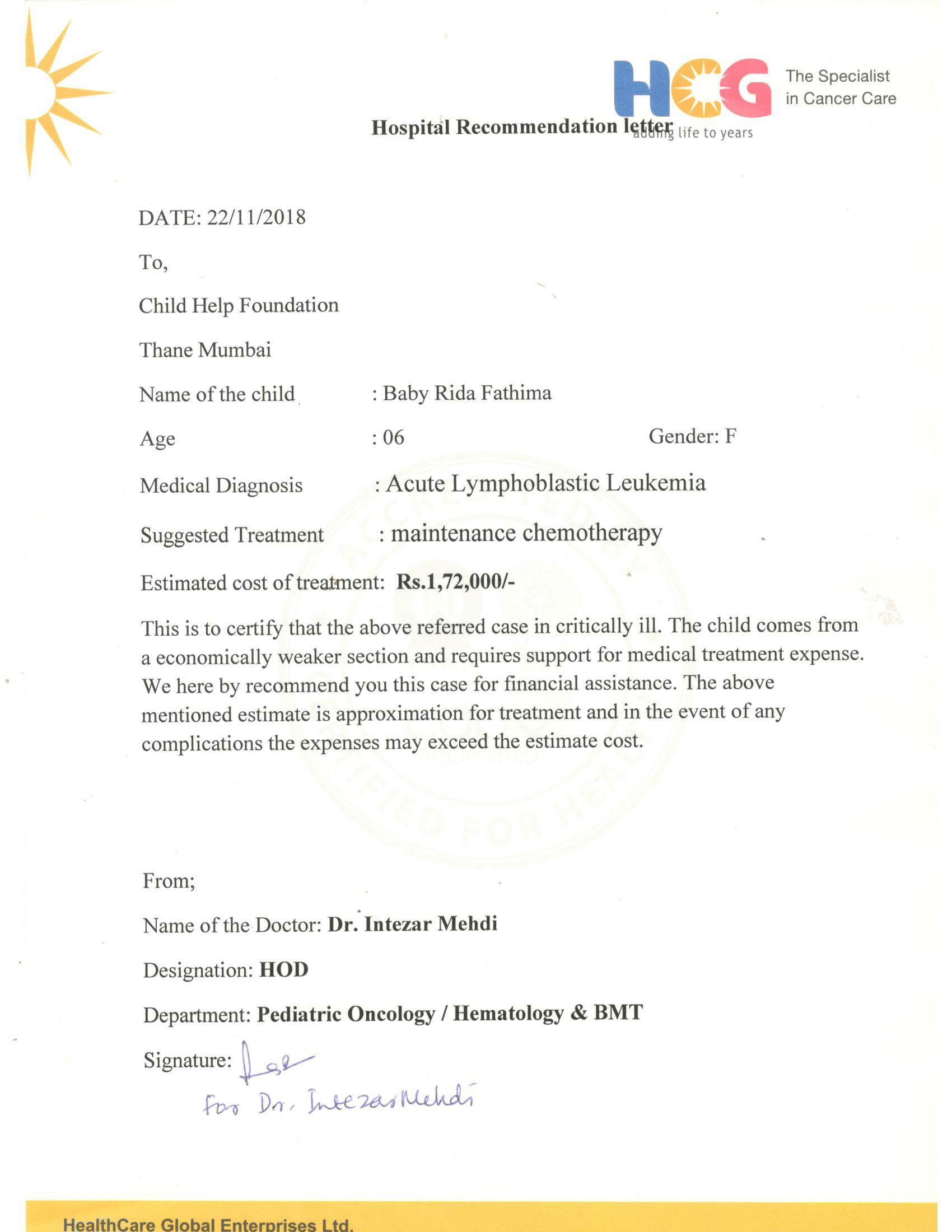 Bank Details
Bank Name : ICICI Bank,
Address : Mira Road(East), Maharashtra
Account Name : Child Help Foundation
A/c No : 249705000071
IFSC : ICIC0002497
MICR : 400229225

---
Bank Name : Canara Bank,
Address: Bhayandar (East), Maharashtra
A/c No : 3305101002215
IFSC : CNRB0003305
MICR : 400015146
SWIFT CODE : CNRBINBBBFN

---
Bank Name : Kotak Mahindra Bank Limited
Address : ira - Bhayander Road, Maharashtra,
Account Name : Child Help Foundation
A/c No : 2511341481
IFSC : KKBK0000649
MICR : 400485051

---
Bank Name :HDFC BANK
Address : Mira Road(East) - NAYA NAGAR, Maharashtra
Account Name : Child Help Foundation
A/c No : 50200029534957
IFSC : HDFC0000358
MICR : 400240047