Current Situation of Kerala
A flash flood, triggered by widespread landslips in the high ranges of Kottayam district, has raised fear of another great deluge like the previous year. There was a sudden rise in the water level in the Meenachil river with the flood water gushing into several houses on the river banks due to the landslips at Adukkam in the Theekkoyi ranges which was reported in early hours of Friday.
The district administration has so far opened 5 relief camps where 114 members from 29 families have been accommodated. Civil Supplies Minister P. Thilothaman is in the district to coordinate and monitor the rescue and relief activities. The floodwaters have taken over all the major roads, airports, and causeways across the rivers, bringing normal life to a halt. Kochi Airport has been shut down after flooding. Four teams of Engineer Task Force (ETF) are scheduled to arrive today to take part in the rescue and relief work in the state.
- 28 people dead, 7 missing
- Landscape of Wayanad's Meppadi altered by huge landslide
- A total of 24 landslides were reported in the state, army, navy on high alert
- More than 40 people are feared trapped in a landslide at Bhoothanam in Nilambur area of Malappuram. Rescue workers reached the spot a few hours ago.
- In Wayanad's Meppadi where a landslide occurred yesterday night, six bodies have been recovered so far.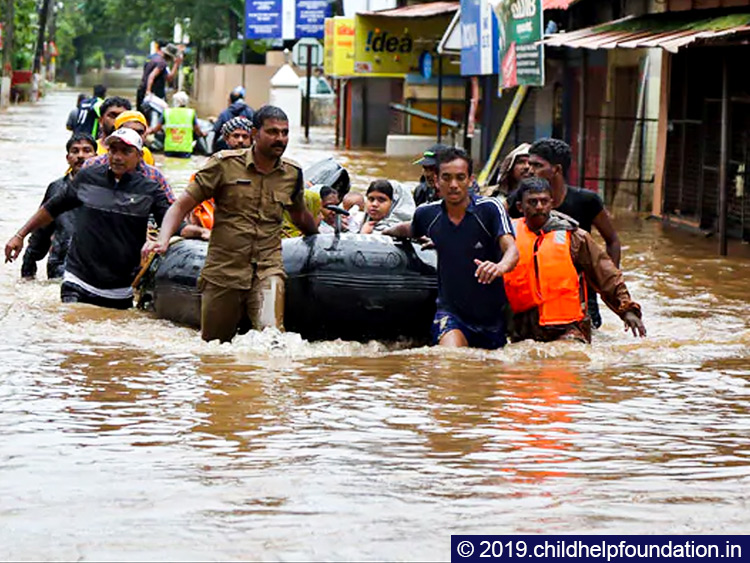 The opening of the shutters of the Malankara dam has threatened to flood the low-lying areas on the banks of the Muvattupuzha river, including Thalayolaparambu and Vadayar.
How can you help?
We believe that possibilities are endless where unity in diversity exists. And now it's time to show our unity to our southern state Kerala. The death count is mounting day by day. Hundreds of villages have been submerged. Child Help Foundation needs your support to reach out and help thousands of children and families to come out of this calamity and crisis.
The year 2018
In the year 2018, through Child Help Foundation, more than 10,000 individuals were benefited, 14 schools were rebuilt, more than 100 houses were provided with support and essential kit.
This year, Child Help Foundation, is again taking an initiative to provide food and basic necessity assistance to the affected people. We understand that we cannot light up the whole state but a little contribution will surely light up the lives of some people who are suffering. To see our last year's work you can visit -
Contact Details
Mary Dhanya Pulikkal House, H. No. XV/2021, Beach Road, Fortcochin, Cochin - 682002 Ph. 9526149219, 8075298633
You can even send the relief materials to these address. Please do not send used/old clothes
Address
Child Help Foundation Third Floor, Krishna Kripa Building, Near Sree Krishna Temple/ Chaithanya Eye Hospital, Ravipuram Road, Ravipuram, Kochi 602016 Ph. 9526149219, 8075298633