In the year 2021, India has been hit by the second wave of the COVID-19 virus, creating high amounts of pressure on the healthcare system of the country. Around 2 lakh cases are being registered every day; the number was way lesser in the year 2020. The new COVID-19 virus mutations, being spread in 2021, are far deadlier than the ones we dealt with in the past year.
As the healthcare system of India is struggling with every new case being registered, there is a lack of resources being felt all over the country. Consequently, the lives of our healthcare workers including doctors, nurses, and lab technicians, who have been working throughout these tough times have been additionally burdened by the new surge in these cases.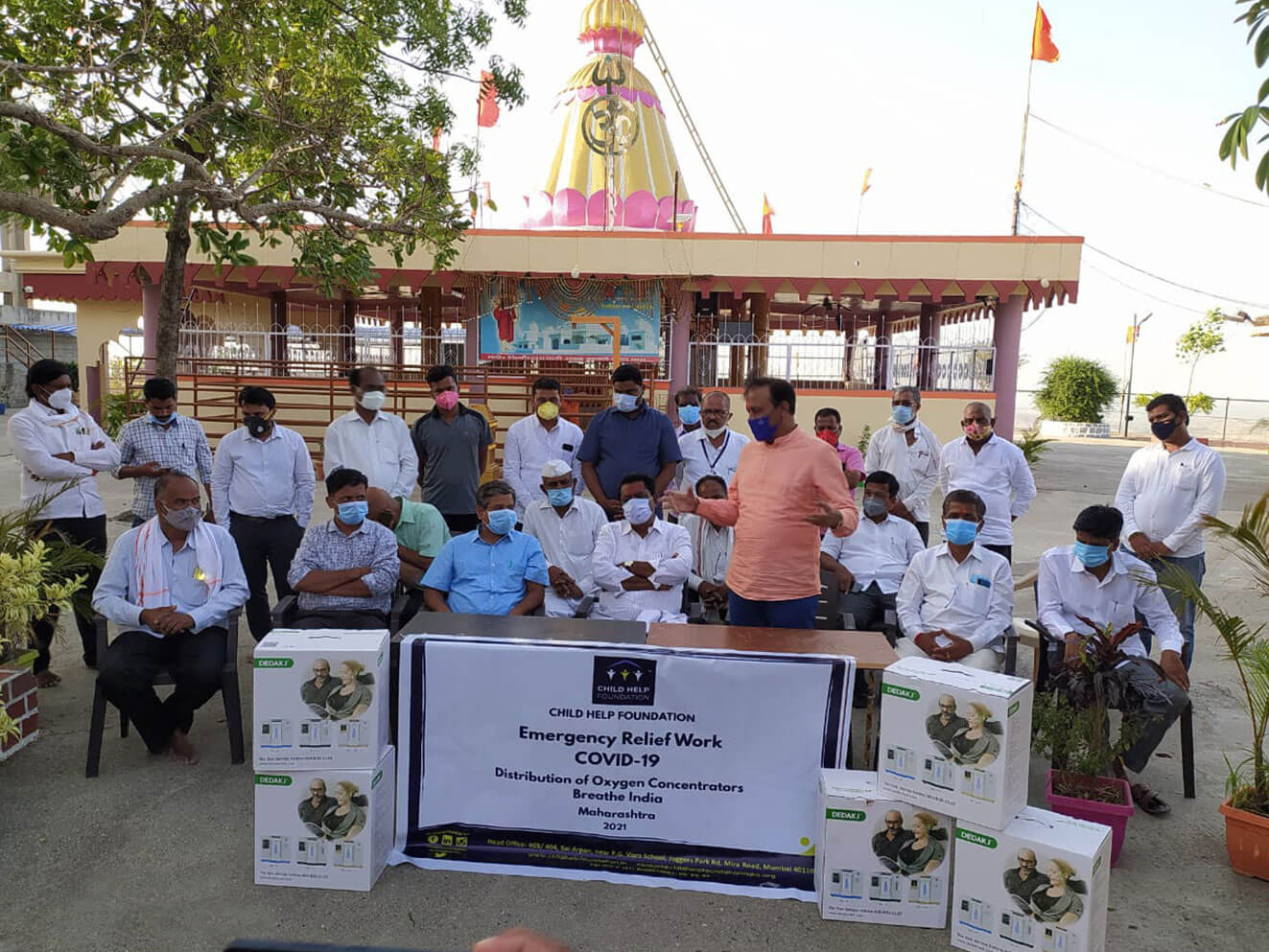 The need for oxygen cylinders and concentrators is exceeding tremendously and many private, as well as government suppliers, are unable to meet this growing demand. All of us must have come across messages and pictures about people looking for oxygen concentrators or Remdisivir injections.
A lack of medical equipment like oxygen cylinders, oxygen concentrators, and Remdesivir injections led to thousands of people losing their lives.
Child Help Foundation started the 'Breathe India' campaign with an intention to try and reduce the burdens off the hospitals treating COVID-19 patients, by facilitating oxygen concentrators. We have been successful in providing oxygen concentrators to several hospitals throughout Maharashtra to date.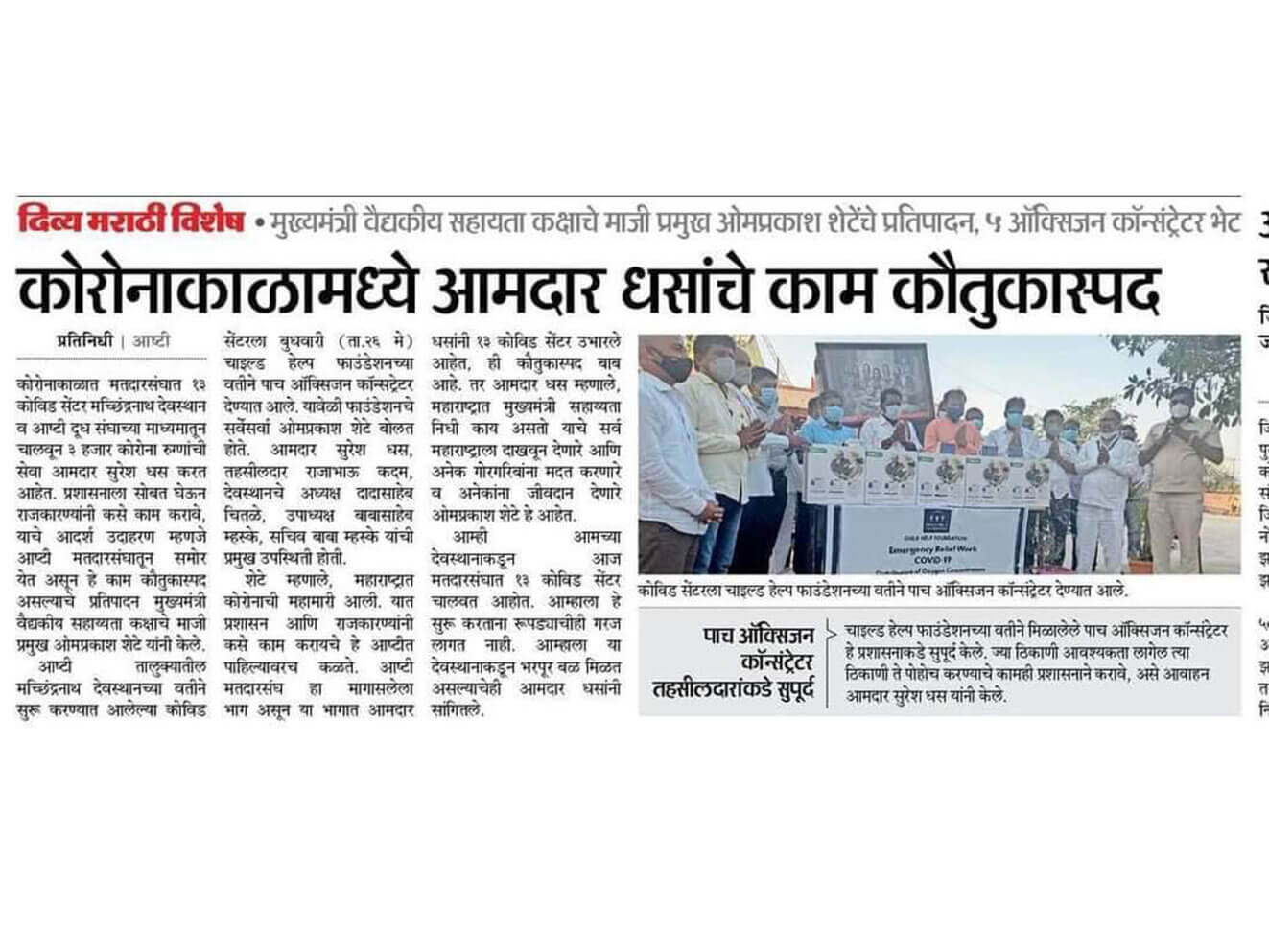 This is the time for us to unite and come together to fight the virus. Each penny is capable of saving families by protecting their loved ones. Come forward and help us make it happen because #TogetherWeCan!
12-09-21
Under our Breathe India campaign, CHF donated 1 oxygen concentrator to St. Mother Teresa Hospital, Virar. To show their gratitude for the same, the hospital's Chairman sent an appreciation certificate to the team at Child Help Foundation.
---
11-09-21
CHF distributed 1 oxygen concentrator to Solapur's Central Multiple Hospital.
---
---
06-07-21
On 6th May 2021, CHF donated 5 oxygen concentrators to the COVID-19 establishment set up in the Beed district of Amravati, Maharashtra, to ensure the well-being of the common man.
---
03-07-21
On 3rd July, in partnership with Xondham Foundation, CHF handed over 50 Oximeters to Dr. Abhijit Basu, Joint Director cum Member Secretary, District Health Society, Goalpara district, Assam.
---
23-06-21
Lourdes Hospital in Kochi, Kerala is one of our many partner hospitals in the country, working towards healing society. To support their tireless efforts to fight the war against the virus, Child Help Foundation facilitated Oxygen Concentrators, as a part of our 'Breathe India' Campaign.
---
25-05-21
Under the 'Breathe India' Campaign, CHF donated 1 Oxygen Concentrator to Seven Hills Hospital, Marol, Mumbai, in the presence of Mr. Amol Toraskar, Project Head, and Ms. Daivshala Mange.
---